The Common House in Cohousing Developments:


Following is an example of a Seniors Cohousing Common House called "Wolf Creek Lodge Seniors Cohousing" located in Grass Valley, Northern California.  This dedicated group survived the Crash of '08 and the many obstacles that followed, but they persevered and finally got to move into their new homes in the Fall of 2012.  Most cohousing projects take 2 - 3 years, but this one took over 5 years.  Congrats Wolf Creek!  Phase 1, the Lodge has completed.  Phases 2 and 3 to follow.

The three-story L-shaped seniors' lodge has underground parking with elevators and stairs to the upper two-floors.  The walkways or sidewalks are broad enough for people to have a small area in front of their doors for planters, a bench or table and chairs plus plenty of room for people to walk by to their units including pulling wagons with groceries, etc.  If you enjoy sitting outside and saying hello to your neighbours as they come and go, then this might become your favourite place.  If not, you can sit on your private balcony on the other side of your unit and enjoy your privacy.  It's your choice depending on your mood.  It's also important to know that public transit is right behind the Lodge and a local shopping mall with a good grocery outlet is one block away.  This reduces the need for a car if you've lost your licence or cannot afford a car.

The Wolf Creek Common House is the Heart of this development.  It's located in the centre or where the L-shape bends.   It's where you go when you want to share a meal with others, or create a painting in the crafts room, or build a bookshelf in the workshop, or do your laundry, or attend a meeting, or watch a movie or sports with others in the lounge, or hang in the library, or go to hear someone speak on a subject of interest.  And that's just the main floor.  The possibilities are endless and up to the group.  The size of a common house is between 3,000 and 4,500 square feet for 20 - 30 housing units.


Main Floor - Seniors Common House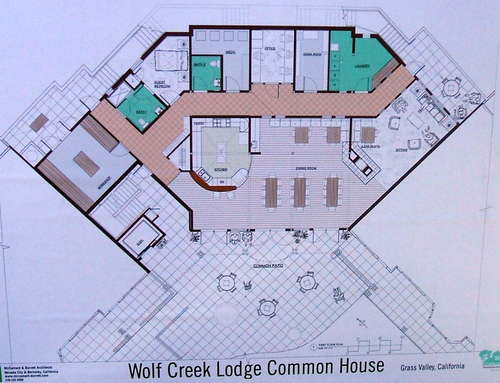 Main Floor Only
:  Large outdoor patio, large dining/kitchen area, Lounge/Library/Crafts rooms (right side).  Elevator/Stairs, Workshop (left side).  Caregivers' Respite Room, Computer Lab, Office and Utility rooms, Laundry room.
Second Floor - Seniors Common House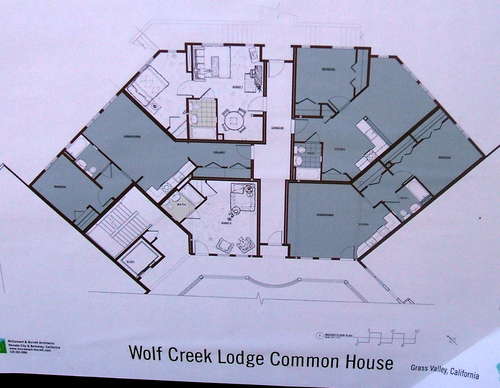 Second Floor Only
:  Stairs/Elevator, a studio apartment and four 1-bedroom suites.  These are for friends and relatives who are visiting residents or they could be used for caregivers respite who are attending to frail senior residents.  This was the useage choice of this group.  Other groups might decide otherwise depending on their interests. 
Rest of the Wolf Creek Development



Phase 1 - Wolf Creek Development:  Phase 1 is the Seniors' Lodge where "A" is marked at the top of this rendering.  In fact "A" is sitting right above the Common House.  The seniors' suites or units are either side of the common house on two floors.  Parking is underground.   (Phase 1 completed 2012)

Phase 2 - The nine buildings in front of the Lodge are duplexes and townhomes which are semi-detached.   They are for all ages.  They will have limited access to the Common House on an invitational basis for special events, seasonal parties, barbeques, etc.  Completion TBA.

Phase 3 - Detached housing overlooking Wolf Creek.  These will be regular market housing for all ages and likely won't have much to do with the Common House activities.  Completion TBA.   To learn more go to...  Wolf Creek.
 To learn more about Seniors Cohousing generally, go to "Seniors Cohousing"